"I love making people smile! When the braces come off, it's not only a great day for my patients, it's a great day for me! It is an unbelievable experience to watch a patient transform right in front of your eyes. Many times, I see children who are shy and embarrassed by their smile, and through our treatment, I have witnessed a dramatic change in their personality and self-image. Their confidence soars and their shyness melts away. It's extremely rewarding to help my patients reach their fullest potential through the power of orthodontics." — Dr. Ciccone
A native of Long Island, Dr. Ciccone received a full academic scholarship to Adelphi University, where he was also accepted into the prestigious seven-year dental program. He studied at Adelphi for three years, after which he attended Tufts University School of Dental Medicine, where he received his Doctorate of Dental Medicine. Following dental school, Dr. Ciccone was immediately accepted into SUNY Stony Brook's orthodontic residency program where he received his orthodontic certificate after three years.
Dr. Ciccone regularly attends various seminars and lectures in order to learn the latest orthodontic techniques. As the director of orthodontics at Nassau University Medical Center, Dr. Ciccone routinely teaches dental residents about orthodontic diagnosis and treatment planning, as well as the skills needed to successfully attain different treatment modalities. He is also a professor at Adelphi University, where he teaches anatomy and physiology.
In addition to helping him provide the greatest care for his patients, Dr. Ciccone's commitment to CE allows him to teach what is cutting edge in the orthodontic profession to the next generation of professionals.
Awards and Recognition
Dr. Ciccone has been listed in "America's Top Dentists" the specialty of orthodontics for more than six years. He has also been included as one of the "Top Orthodontists" in Long Island Pulse Magazine for the past several years as voted each year by his peers. His additional honors include:
Awarded "Patients' Choice Award" by Vitals.com, 2015-present
Outstanding professionalism and service, Dept. of Dental Medicine and Oral Surgery, Nassau University Medical Center, 2015
Nominated top dentist, Merrick, NY, topDentists, 2012-present
"Top Orthodontist on Long Island" as featured in Long Island Pulse Magazine, 2012-present
Director of Orthodontics, Nassau University Medical Center, 2007-2015
Diplomate, American Board of Orthodontics, 2007-2012
Alternate delegate, American Dental Association, 2010-2011
Committee chairman of the New Dentist Committee for the Nassau County Dental Society, 2009-2011
Board of Directors, Nassau County Dental Society, 2007-Present
Selected to serve on the Educational Program Committee during the accreditation of Tufts Dental School, 2002
Dean's List for high performance on national boards Part I and II, 2000-2002
Inducted into the prestigious Honors Middlesex Externship Program at Tufts Dental School, 2001-2002
Dr. Lino, D47 and Melba Tiberi Family Academic Scholarship, 1999-2000
Tufts University Academic Excellence Scholarship, 1998-2002
Adelphi University Presidential Scholarship (full academic scholarship), 1995-1998
Research Initiatives
"The Effectiveness of a Vertical Pull Chin Cup to Control the Vertical Dimension of a Patient During Rapid Palatal Expansion," presented to the Dept. of Orthodontics, SUNY Stony Brook, 2005
"Craniofacial Disorders and their Clinical Significance," presented to the Dept. of Orthodontics, SUNY Stony Brook, 2003
"Patient Tracking for Postgraduate Orthodontic Clinic," presented to the Dept. of Orthodontics, Tufts Dental School 2002
"The Timing and Techniques of Cleft Lip and Palate Correction," presented to the Dept. of Oral and Maxillofacial Surgery, Tufts Dental School, 2001
Professional Affiliations
Speaking Engagements
Outside the Office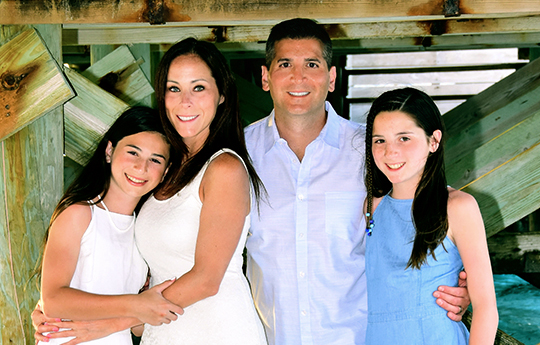 Dr. Ciccone met the love of his life, Kelly, in college and has been married for two decades. They have two amazing daughters who are not only beautiful and intelligent, but incredibly compassionate and loving; he couldn't be more proud.
In addition to being excellent soccer players, the oldest is thinking of becoming an orthodontist like her dad when she grows up, and the youngest is a natural-born veterinarian. Bruiser, the family's venerable Boston Terrier, is quite content to sleep all day and night, and when he finds time, he plays with the girls until he is exhausted.
When he's not at work, Dr. Ciccone loves spending time with his family; whether it's a vacation together or a movie night at home, he cherishes every moment spent with his wife and daughters. In his free time, Dr. Ciccone enjoys staying active by running and playing tennis and golf.